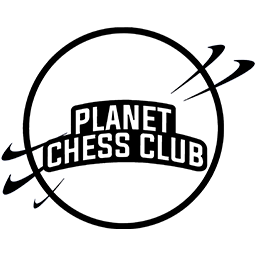 Hi folks! After an almost two-month hiatus, the Planet Chess Club will return in full effect with a "grand re-opening" and a return to regular streaming. The date has not been set as there are some ideas and details still being worked out, but be certain to bookmark this blog and check back to not miss out! Also, now is the right time to register for your free chess.com account if you
don't
already have one, and join the Planet Chess Club on chess.com and Twitch!
Shameless plugs aside, as this is the first post on this blog, I feel it necessary to first say hello, all welcome and thanks for reading! Here you will find a blog that is mostly about chess, but it is about my progress as a chess player, musician, server admin, streamer, instructor, coach, philosopher, human. And my ramblings… YAY!
Progress does not imply motion without hindrance. For if there are no impediments in life there would be no resistance. Without resistance there is no time, space, or matter. Nothingness. Unity. All One. AllOne? Alone. Perhaps this is the state of Nirvana.  <<– *ramble*… Just sayin' I told you so!
–>> Continued ramble… Resistance implies plurality. Differentiation. Separateness. Distance. Therefore lack of resistance implies unity, oneness, aloneness, solitude, nothingness. These thoughts remind me of a thought that I had as a youngster: What if absolute nothingness filled the universe? What if the universe were filled with only one thing absolutely? What is the difference? As I type these sentences I can't help but to wonder if that is not indeed the case. Cannot everything that exists in the universe be classified as one, singular, undistinguished, indistinct? Everything in the Universe has at least one thing in common!  <<— end whatever that was.
Yup just gonna leave that alone and pretend it didn't happen!
I said all of that to say that progress is not without hiccups, setbacks, or effort and this blog will put on display the good, the bad and the ugly for your musing, amusement and improvement!
Often, taking a first step in a new direction is is a little difficult to do. Sometimes I have grandiose (delusions of grandeur) plans that I want to accomplish and starting the task gets increasingly daunting the more I "think" about it. The reason for this is that I have no reason to be whisked away by fantastic thought before I have taken the first step in the new direction. Heck, I wouldn't even know what to expect or what it felt like until that initial step.
And remember chessdren:
"(D0) As many as you can, tactics a day, helps to keep the facepalm away!"
My hope is that you will find something that you seek within these pages worth at least every moment you spent seeking. With regard to taking the first step in a new direction, I conclude this beginning by saying that it feels good taking this step. It feels good just to speak. The feeling is bolstered by the thought of someone reading a post on this blog and smiling.